3 awesome things to do in Manchester
Just recently we were in the northern city of Manchester - home to the band Oasis and Anthony Burgess ( Novelist that wrote A Clockwork Orange ) but for us the infamous Northern Tennis Club with its history of hosting the Aegon Manchester Trophy will be where we are based.
Whether you're a tennis player or just visiting the city, here are 3 personal experiences we discovered offering a flavour of what's on offer to do, eat and drink here.
1 | Scalextric/Formula 1 driving fun - Stonerig Raceway
If you want to live life in the fast lane this is a must-see. A 15 minute journey from the city centre, you could easily be forgiven for driving past this row of garages. There is not much kerb appeal but behind doors lies scalextric racing at its extreme with the biggest indoor scalextric in the UK.
There are 8 large fully themed tracks and a 19 foot pro track where up to 6 people can compete against each other. The tracks all have fantastic features and thrilling names like Crazy Valley, Ice Mania and "Aliens have landed".
Learn to control your speed and patience and compete against your personal best time whilst screens above you record your fastest lap time.
For those who prefer the real experience of sitting in a racing car there is an option to experience life in the fast lane. Let me introduce you to the Formula 1 racing room.
Designed like a pit stop you can choose your racetrack and then it is programmed into the computer. Wearing the Virtual Reality headset is a real bonus as you tear round the tracks at unbelievable speed. This is the ultimate thriller ride for adults and children alike, not for the faint hearted! Felix loved this experience.
The whole family had a great 2 hours at the racetracks, competing against each other. It's a great way to keep everyone entertained. For further information visit Stonerig's website - click here to go there
2 | For a bite to eat or early supper - try Tampopo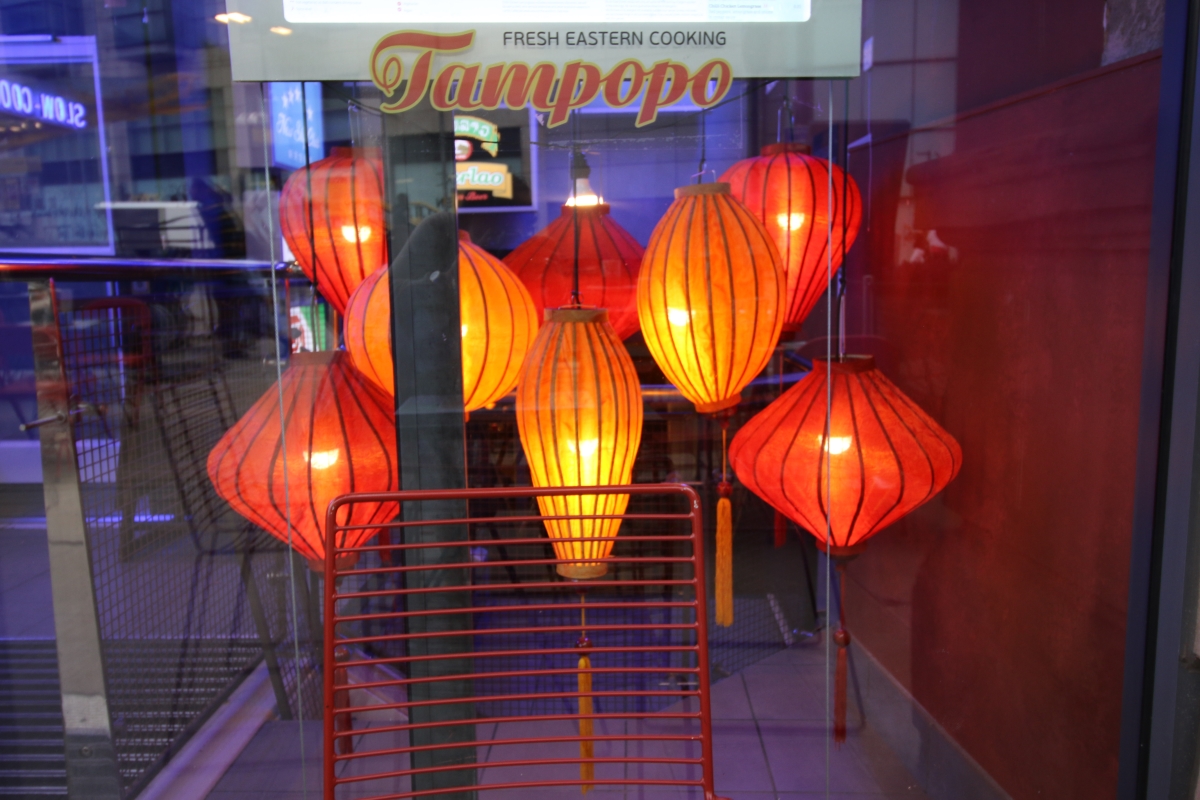 We were looking for something a little different and we found it! In the heart of the bustling city, we discovered the atmospheric Tampopo restaurant offering a fusion of authentic healthy Asian street food across 5 countries in just one menu.
We tried Singaporean curry, Vietnamese Chilli Chicken Lemongrass, South East Asian Satay Chicken, Sticky Wings, Gyoza (read Japanese dumplings ) and Thai Green Curry - this covered all of our palettes from mild up to hot and very spicy!
Felix who likes food mild struggled to look at Lucian's Thai Green Curry and the number of chillies surfacing...
Power your potential with a quick visit to one of the juice and smoothie stands within the central Arndale Shopping Centre. We came across 'Smoothelicious Smoothies' on the first floor offering a chance to grab your 5 a day in one drink. Felix opted for a Cherry Berry (cherry & strawberry) while Lucian went for a simple delicious Strawberry Sunrise.
We love this city and its buzzing energy. We hope that these 3 brief visits inspire you whatever your time permits here. Next month our adventure takes us to the far south of England and it all begins with strength and conditioning in a most unusual location.
Subscribe to our newsletter to make sure you don't miss out on our next blog.